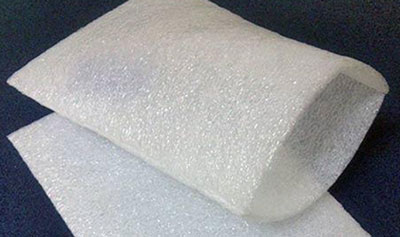 Foam packaging can also take many forms to fit your shipping needs. As a national packaging supplier, we sell foam pouches, sheets, and tubing. We also offer anti-static packing foam for electronics, protecting workers from electrostatic discharge.
is like a superhero. While it doesn't wear a cape, it protects your items from being damaged in the event they're jostled or dropped during shipping.
Continue reading to learn more about foam packaging and why it deserves a place in your business strategy.
Foam Packaging Benefits
Clean
Not all packaging materials are clean. For example, crumpled newspaper can transfer ink onto shipping items. For this reason, it's worth looking into other packaging products like foam. Foam is a clean packaging material that can be shipped with a wide variety of products. Foam packaging also won't make a mess all over your floors like shredded paper. Packing foam rolls are effective in factories because the packing foam sheets can be easily torn off for each product on the assembly line.
Soft
Foam is soft, which makes it perfect for shipping fragile items. When buying protective packaging, it seems fairly obvious that you wouldn't want the packaging to be the cause of shipping damage. Fragile items need soft packaging to prevent scratches, chips, and other types of damage. Large items like furniture need protective packaging to cushion them from impact damage.
Cost-Effective
Foam is a lightweight material, which cuts down your shipping costs. The heavier the package, the more you'll have to pay for shipping. This is why it's important to pick a packaging material that will be lightweight, yet effective.
Versatile
Depending on what items you're shipping, you'll need a variety of foam packaging products to . As a protective packaging manufacturer, we'll be able to help you choose the most effective products for your shipping needs and budget. That way, you can feel confident that your shipping items will arrive at their destination intact.
Foam packaging comes in the following options:
Pink anti-static foam
Film laminations
Foam pouch
Foam sheets
Foam tubing
Foam sleeves
Recyclable
Foam shipping materials are made out of recyclable low density polyethylene. If you are interested in decreasing your company's ecological footprint, you may want to consider the benefits of foam packaging and recyclable packaging.
Safe for Electronics
Pink anti-static foam is safe for electronics. Electronics need to be protected from physical damage, shocks, and static electricity. This is why more and more business owners are turning to pink anti-static foam sheets for shipping electronics. To learn more about how to protect electronics from shocks during shipping, we recommend getting in touch with our foam packaging company for product recommendations. We have the expertise you need to keep electronics safe during shipping.
Premier Protective Packaging is dedicated to helping customers keep products safe during shipping. If you are interested in learning more about our foam packaging products, give us a call at (616) 791-7400. You may also fill out our online contact form to request a quote.