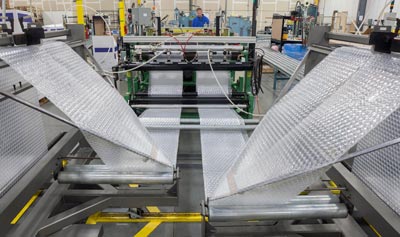 Shipping your products without adequate protection can result in more damage and more customer returns. Our custom-made come in multiple sizes and thicknesses so you can choose the best protection for your shipments.
Bubble Product Options
Premier Protective Packaging offers more than just your classic bubble wrap. We provide a variety of customizable options, including:
Anti-static bubble
Green bubble bags
3rd web bubble
Laminated to a layer of clear, color, or printed film (smooth exterior)
Metalized
VCI
Multi-pocket bubble bags
Lip and tape (sealable closure)
Bags, sheets, and tubing
Small bubble bags
We offer multiple sizes and thicknesses for bubble sheets and bubble rolls, ranging from 1/8-inch to 1/2-inch.
Our bubble bags are available in 1/8-inch, 3/16-inch, and 5/16-inch sizes. We make sure to always have plenty of 3/16-inch bubble-out bags with lip and tape in stock since it is our best-selling bubble product.
Find the Best Bubble Product for You
We are a Grand Rapids, MI, bubble wrap and bubble product manufacturer serving customers across the country. We will make sure your products reach their destinations safely. Call Premier Protective Packaging today at (616) 791-7400, or contact us online to request a quote.