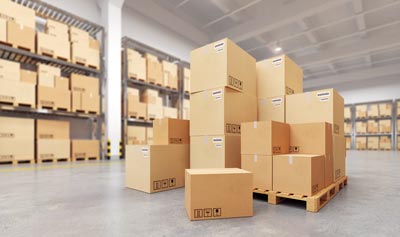 Unsure which packaging supplies you need to ship your products? You've come to the right place. Finding the right packaging is important to protect your products and save you money in the long run.
As a bubble wrap converter, we help businesses just like yours find the right protective packaging they need for a wide range of products. The type of packaging you use will depend on the size, shape, and type of product you need to ship.
Best Practices for Protective Packaging
There are a few best practices to follow when it comes to choosing the best protective packaging supplies for shipping. In general, the best cushioning material should be:
Cost effective
Lightweight
Clean
Non-abrasive
Absorbent of impact
Anti-static (for electronics)
Anti-corrosion (for metal items)
Now, let's take a look at a few product-specific packaging recommendations.
Wrapping Small Items in Appropriate Packaging
An easy way to see if you're using the right packaging materials is to gently shake a box that's ready to be shipped.
Hear anything? The small items inside the box should be so snugly wrapped in protective packaging that they won't rattle. If you can hear movement inside the box, there's a risk your items will get jostled during shipping and break before they can reach their destination.
To protect smaller items, check out our small foam pouches and bubble bags. We also have bubble out bags with lip and tape. These products will protect products such as:
Nuts and bolts
Phone batteries
Keeping your small items enclosed in the appropriate protective packaging will help prevent them from being jostled or lost during shipping.
Protecting Auto Parts
Steering wheel covers can be made of polyethylene foam laminated to high density film or spunbond polypropylene for a breathable cloth-like material.
The elastic band around the circumference allows you to fit the cover over the steering wheel so it's protected from grease or oil. If you run an auto repair shop, steering wheel covers can keep car interiors clean while they're being serviced or moved to a new location.
We also recommend spunbond polypropylene for surfaces you don't want to scratch, such as car side mirrors. Spunbond polypropylene is soft, lightweight, breathable, non-toxic, and resistant to tears.
Finding the Right Fit for Irregularly-Shaped Products
Custom sized foam or bubble sheets, bags, and sleeves are perfect shipping items that are fragile and/or irregularly shaped.
As a foam and bubble converter, we're able to create custom foam and bubble products that protect the items you wish to ship on all sides. Not only do custom foam and bubble inserts absorb impact from the outside, but they also keep your items securely in place until they arrive at their destination.
Preventing Damage to Electronics
Ask about our pink anti-static foam if you need to ship electronics.
is designed to slowly and safely dissipate electrostatic charge. This prevents damage to sensitive electrical components. Our pink anti-static foam can be custom cut to any sheet size or thickness you need.
Inhibiting Corrosion on Metal Surfaces
Our ability to laminate VCI (
) film to our bubble bags helps prevent metal items from rusting during shipping. The VCI film in these bubble bags has been imbued with chemical formulations that stop vapor molecules from condensing on exposed metal surfaces.
Find the Best Protective Packaging for your Products
Our team of protective packaging experts can help you choose the right packaging supplies for shipping your products. As a national supplier, we help clients all around the country get the protective packaging they need. Call Premier Protective Packaging at (616) 791-7400, or contact us online to request a quote.
This blog post has been updated.