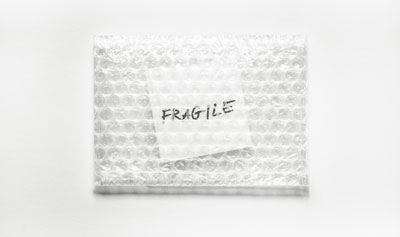 Are you using the right size bubble for your business? Choosing the wrong bubble wrap to package items can cost you money and customer satisfaction. Not all bubble sizes are created equally, which means you'll want to ask your bubble wrap suppliers what products will work best for the items you ship. Continue reading to learn what size bubble you need to make sure items arrive safely at their destinations.
Bubble sizes are from 1/8" and 3/16 bubble (1/2" bubble is available in perfed, or perfed and slit rolls or sheets only) to 3/16 3rd web and 5/16 3rd web bubble. While small bubbles prevent scratches and scrapes, large bubbles cushion items from impact damage. Keep in mind that while bubble is relatively light, the large boxes they can be packed in can still contribute to the cost of shipping.
Choosing the Right Size Bubble Wrap
1/8" Bubble
Small bubbles are great for protecting items from being scratched or scraped during shipping. For example, many technology companies use 1/8" bubbles to protect screens for smartphones, tablets, and other lightweight devices.
If you are shipping electronics, you'll want to use anti-stat bubble wrap. and sheets protect electronics from static electricity during shipping. This pink bubble wrap is different from other types of packing material because it is designed to slowly and safely dissipate electrostatic charge. Electrostatic discharge (ESD) not only damages electrical components, but can harm human workers.
3/16" to 5/16" 3rd Web Bubble
The larger the bubble size, the more protection you have against impact damage. For example, large bubble sizes protect items in the event someone drops a box. The 5/16" bubble size is perfect for void-fill jobs because it gives you more protection than the standard 3/16" bubble.
Large bubbles are best for cushioning medium weight items. The 5/16" 3rd web bubble is perfect for large fragile items because it's filled with more air and is more durable. You can depend on this protective packaging to work for the entire journey.
Combining Bubble Wrap Sizes
Many of our customers use more than one plastic bubble wrap size to keep items safe during shipping. For example, you may want to use 1/8" bubble to protect a TV screen from being scratched and use a large bubble size over top to protect against impact damage. We especially recommend using more than one bubble size if you need to ship something fragile and/or valuable.
As a manufacturing converter, we are dedicated to helping business owners just like you find the right bubble and packaging so shipped items arrive safety at their destinations. To buy bubble wrap for your business, call Premier Protective Packaging at (616) 791-7400.