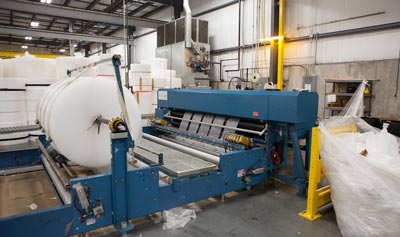 How do you package your products? If your business is relatively new, you might not have all of the details figured out just yet. One detail that many new business owners overlook is whether they're using the right type of packaging for the products they ship.
At Premier Protective Packaging, our packaging manufacturers are industry experts when it comes to packaging and shipping your items. We're happy to help you find the right protective packaging for your business. In general, you have two main choices: bubble wrap and shipping foam.
What Is Bubble Wrap?
Bubble wrap was invented in 1957 and was originally intended to be a textured wallpaper. Today, it's a major component of the protective packaging industry.
Bubble wrap works well to cushion most products during the shipping process. It's a popular packaging choice for many businesses because it can be bought in bulk and cut to size if necessary.
Our protective packaging manufacturers offer a variety of bubble wrap products for your business, including:
Bubble bags
Laminated bubble products
Bubble tubing
More
Our bestselling product is our 3/16-inch bubble-out-bag with lip and tape. If you're not sure which of our bubble packaging would best suit your products, give us a call and we'll be happy to assist you.
When to Use Bubble Wrap
In general, you'll want to use bubble wrap when you:
Want to protect breakable items
Have particularly large or heavy items
Need to fill space in a larger box
What Is Shipping Foam?
While not as popular as bubble wrap, shipping foam has its own place in the protective packaging industry. Like bubble wrap, packing foam also uses air bubbles to shield products from damage during shipping. However, these bubbles are much smaller than those in bubble wrap. This means shipping foam can be much thinner than bubble wrap.
At Premier Protective Packaging, we offer both polypropylene and foam products that are clean, affordable, non-abrasive, and lightweight. Best of all, our low-density polyethylene is recyclable, making it ideal for companies concerned with their ecological footprint.
Our packing foam comes in sheets, rolls, and bags, so it's perfect for items both large and small. We stock 1/8-inch foam packaging sizes ranging from 3"x4" to 24"x24".
When to Use Packing Foam
In general, you'll want to use shipping foam when you:
Ship multiple items in one box but want to package them individually
Protect oddly-shaped items that you want to wrap
Want to separate items such as plates or glasses when packing
Choose the Right Protective Packaging
Ultimately, the type of protective packaging you use will depend on your budget, your brand, and the types of products you're selling. Rest assured that no matter what type of protective packaging you need, our team of experts can help you bring your vision to life.
Our Grand Rapids, MI, packaging manufacturers use state-of-the-art technology to create custom protective packaging that meets your business needs. Call Premier Protective Packaging today at (616) 791-7400, or contact us online to request a free quote.
This blog post has been updated.