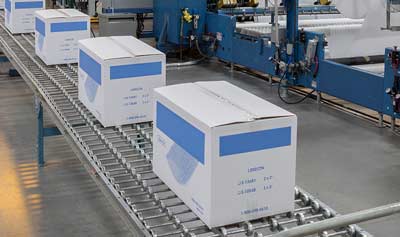 When people have something shipped to them, they often don't think twice about the
used. However, it was actually the packaging surrounding whatever you ordered that kept it safe and in one piece throughout its journey.
Good packaging is essential and more important than many think. It's the reason you don't constantly receive broken merchandise or have your purchases stolen because they're in plain sight.
In this blog, we're going to discuss 4 core functions of packaging and why each is so crucial.
Product Protection
The biggest function of packaging centers around its ability to protect the product inside of it.
can be dicey sometimes as each person may not handle a package with the same care. Fortunately, you can control your packaging choices unlike the actions of others.
If the packaging is too flimsy or not padded enough, there is a risk of breakage. You or your customers never want to excitedly open up a box or pouch only to find an item broken. That's what protective packaging is built to avoid.
For example, our cost-effective and nonabrasive foam products protect items if they are jostled or even dropped during transit. Simple put, having quality packaging materials can save shipped items.
Communication
Aside from offering protection, packaging also does double duty as a marketing vessel. Think about your favorite food or hygiene product to grab at the grocery store. Are you drawn to the package because of its presentation?
Packaging has to protect but it also should look appealing to those receiving it. You want your brand to be conveyed to customers you may not be able to meet face to face. It's the ultimate first impression and can keep customers coming back.
Theft Prevention
No one wants something stolen from them or a breach of security. Both can happen if a product is not packaged properly. The packaging used could be too see-through or simply not have enough structure which causes it to collapse.
Using durable, protective packaging materials will keep your items covered and unscathed. We offer a range of products, even those that are more specialty, to ensure all items remain safe during travel.
Consumer Safety
Are you planning on shipping edible products or substances that require an explicit warning? Packaging must serve two purposes: keep the contents and customers safe.
Information should be clearly listed for consumers to see and the materials insulating food keep it fresh. Our bubble wrap and foam inserts are just some of the products we offer that prevent shipped food from being destroyed or unedible.
Choose the Best Packaging for Your Product
Make sure your products are secure during transit with packaging materials from Premier Protective Packaging. We have been a manufacturer of packaging products in Grand Rapids, MI, for over 15 years and we can't wait to help you prepare your items for shipping.

Don't hesitate to contact us online for a quote or call us today at (616) 791-7400 to learn more about our offerings.