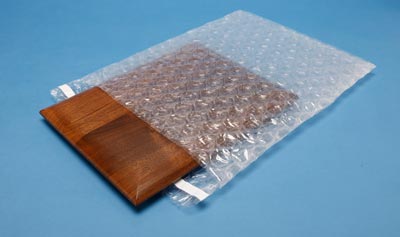 Your customers expect items to arrive at their destinations intact, wrapped in protective packaging. While this isn't new information, many retailers are missing out on opportunities to reinforce their brands and improve customer satisfaction.
Whether you're shipping electronics or medical equipment, it's important to choose the right packaging supplies that'll positively influence online reviews.
How Does Protective Packaging Affect Sales?
It's important that you choose the right protective packaging so your items arrive at their destinations intact. Otherwise, a customer that receives a broken product may write a negative review. Having a lot of negative reviews will decrease your sales in the long run by deterring leads. Negative reviews can even drive traffic to competitors with better online reputations.
Consumers Research Online Before Buying
About
almost always rely on online reviews before buying something new, according to the Pew Research Center. For example, you may have watched a YouTuber review a cell phone as he or she unboxed the product for the first time. Unboxing videos are growing popular because customers value first impressions.
No matter how wonderful your product may be, it won't matter to the consumer if it arrives broken. Many online retailers (like Amazon) make it easy for users to post reviews and pictures of your products online, which is why first impressions matter. The last thing you want is for your product to appear broken in an unboxing video, which is why you need protective packaging like bubble wrap.
Customers Pay More Attention to Negative Reviews
It's more important than ever for companies to monitor and respond to online reviews. According to the Pew Research Center, about
pay more attention to extremely negative reviews than positive ones. Protective packaging helps control the online conversation about your company by making sure products arrive at their destinations intact.
Your customers are more motivated to write reviews when they're happy or upset with a product. If you have a reputation for not protecting items during shipping, you can expect it'll come up in more than one online review.
Protect your company's reputation by investing in the right bubble or foam cushion packaging and other shipping supplies. For example, custom bags and sheets can be created to fit the exact size of what you're trying to ship.
Consumers Expect to See Your Brand
How does your brand stand out from the competition? While we provide all the bubble wrap and packing foam you could need, it's up to you to come up with a design that's true to your brand. Protective packaging should also be relatively easy for consumers to open so they don't grow frustrated before they even open the box.
Consumers Expect Safety Measures
Even if you're a B2B company, you're not immune from online reviews. If you ship electronics to stores, you want to make sure you use pink anti-static foam or bubble to slowly and safely dissipate electrostatic discharge (ESD).
protects sensitive electrical components (like circuit boards) from electrostatic discharge and impact damage during shipping.
It takes a lot of people to ship electronics from your factory to retailers. If your company ships electronics, we recommend using anti-static materials to protect human workers from electric shock injury.
Call Premier Protective Packaging
As a supplier of protective packaging, we take pride in helping customers just like you. We work hard to earn your business by making sure you have the shipping supplies you need, from packing foam to . To request a quote for packaging supplies, call Premier Protective Packaging at (616) 791-7400.