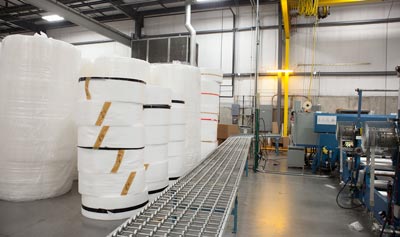 As a business owner, it can be tempting to try to cut costs wherever possible. However, shipping material is one area where it pays to invest.
Although there might be an additional upfront cost, protective packaging can help your business save money in the long run. From bubble wrap to spunbond polypropylene, there is always a way to increase the level of protection for your shipments. Here are three ways that protective packaging can cut down on your cost of doing business over time.
1. Lower the Cost of Returns
When an item arrives damaged, the proper thing to do is to offer to replace it. In order to do that, however, you'll need to eat the cost for the custom to ship the item back. Even if you avoid this step and allow the custom to keep or discard the damaged item, you'll still need to pay to ship the replacement out to the customer. That's double or triple the initial cost of shipping the item in the first place.
Most businesses can handle this every once in a while — accidents happen, after all — but if your packaging is lackluster, you'll find yourself spending money on replacement shipping on a more regular basis. And that doesn't even include the number of other situations in which a customer might want to make a return or exchange.
2. Increase Customer Satisfaction
If a customer's orders frequently arrive damaged, chances are they won't be a customer for long. Likewise, a potential customer might be turned off by
mentioning items arriving damaged. If someone was looking for a reason to choose your competitors over your company, poor packaging might be the nail in the coffin.
Taking the time to invest in your shipping shows that you care about what you're selling and who you're selling to. What you spend on protective packaging, you'll more than make up for in customer satisfaction. Our protective packaging manufacturers recommend that you always go above and beyond to ensure that your customers have only good things to say about your experience.
3. Benefit from Impressive Unboxing Experiences
The number of YouTube videos with the word "unboxing" in the title unboxing and reviewing new products. The packaging becomes an integral part of these videos.
from 2010 to 2014. Nowadays, it's easy to find videos online of people
If you invest in packaging, not only will your products arrive safely, but you can create a unique unboxing experience to increase your word-of-mouth publicity.
You can also communicate your values to your customers by investing in eco-friendly packaging. More and more consumers are noticing when their products arrive in packaging that's recyclable. If you make a statement with your packaging, chances are your customers will pass your message along.
Save Money By Investing in Packaging
Business owners have to make smart decisions about where to invest their money to keep their company afloat. Investing in protective packaging will save your business money in the long run. Our Grand Rapids, MI, protective packaging manufacturers use state-of-the-art technology to create custom protective packaging that meets your business needs. For more information or to request a free quote, call Premier Protective Packaging at (616) 791-7400, or contact us online.
This blog post has been updated.