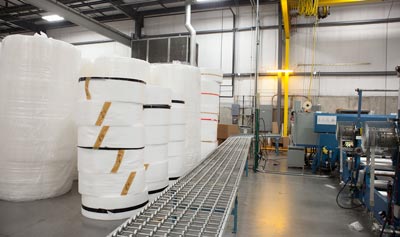 Did you know there are more bubble products for protective packaging than just
? Bubble packaging is one of the most common types of protective packaging for businesses' shipping needs. But with so many different types of bubble packaging on the market, how do you know which product is right for your business?
At Premier Protective Packaging, we offer a wide variety of bubble products, such as:
Anti-static
Volatile Corrosion Inhibitor (VCI)
Sealable closure
Multi-pocket
Laminated
Metalized
Green
If you're unsure which bubble product is right for your business, our protective packaging experts are happy to help. Although we offer a multitude of options, bubble packaging generally boils down to three main categories: bubble wrap, bubble bags, and bubble tubing.
Bubble Wrap
By far the most well-known bubble product, bubble wrap is a great, all-purpose packaging option that's well suited for businesses across many industries. You can use bubble wrap for items of varying sizes, so it's a great one-stop shop if your business offers a wide variety of items.
Our bubble wrap sheets are available in a variety of sizes and thicknesses ranging from 1/8-inch to 1/2-inch. Smaller bubble sizes work well with smaller items, while larger bubble sizes are better for void-fill or for cushioning heavy items. We also offer a 5/16-inch 3rd web bubble for heavy-duty items that need stronger protection.
All of our bubble wrap products are durable enough to hold up under tough shipping conditions to keep your products safe and secure.
Bubble Bags
If you're shipping something that has a lot of small parts or otherwise needs to be contained, bubble bags are a great option. They are especially useful if you're shipping multiple items at once because you can easily keep the order together while still protecting what's inside.
Bubble bags speed up the shipping process as it's much quicker to slip a product in a bag than it is to individually wrap each item. We also offer
bubble bags to prevent metal items from rusting during shipping or storage.
Our bubble bags are available in several sizes: 1/8-inch, 3/16-inch, and 5/16-inch. Our 3/16-inch bubble-out-bags with lip and tape are our best selling bubble product! They can even be laminated to suit your aesthetic needs.
Bubble Tubing
Bubble tubing works well for shipping as well as for keeping items in good condition while they're still on the factory floor.
Tubing is flexible, so it's a great option for oddly-shaped items. You can easily cut each tube to fit the exact size of your product, which is ideal for providing secure protection. Each can be custom-made in a variety of sizes so you can find the perfect packaging to suit your products.
Get the Right Bubble Packaging for Your Business
For all of your shipping needs, our Grand Rapids, MI, protective packaging experts are here to help. We're proud to serve customers all over the country. Call Premier Protective Packaging today at (616) 791-7400, or contact us online.
This blog post has been updated.