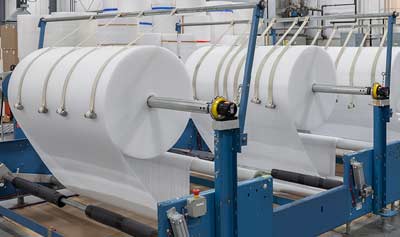 A damaged product can be expensive. It can also reflect negatively on your company and its overall brand. You don't want customers to think less of your product because it showed up at their door crushed or smashed into pieces.
Luckily, there is a solution and here at Premier Protective Packaging, we are experts at providing it to you in an accessible way. The answer is die cut foam.
But what is it and when is it a good idea to use it for your products? Die cut foam is a customized foam insert that goes into a box and keeps your item in place and safely cushioned. The foam itself can be cut to precisely fit the shape of what it is protecting.
Let's explore 3 of the instances in which die cut foam is the right choice.
Bulk Shipping
Irregularly-Shaped Products
Extremely Fragile Products
Bulk Shipping
Do you have a large amount of product that needs to go out at one time? Shipping bulk quantities can be tricky because you want each and every item to be as safe as possible. This is where die cut foam can act as the cost-effective option for you.
When die cutters are used, they are actually capable of making several forms in just one pressing. This makes the process of production best suited for bulk amounts of one thing.
can also conveniently be utilized for a wide range of industries such as medical, automotive, electronics, and recreation. Whatever you need to ship out in large quantities and keep protected, our die cut foam products can get the job done.
Irregularly-Shaped Products
All items that are manufactured do not come in perfectly proportioned shapes. Some have delicate curves, sharp angles, or are sized in a way that is considered irregular. Shipping them in a safe manner can seem impossible at times.
Die cutting a foam insert for them to sit inside of can save you any shipping headaches. No matter the shape of your product, we can custom die cut the foam so your product nestles in securely.
Extremely Fragile Products
is tough when there are fragile items in question. The last thing you want is broken merchandise arriving on your customer's doorstep. Don't fret, die cut foam is to the rescue.
Die cut foam products help to absorb external impacts during transport which standard packaging materials do not do. Plus they look even more professional securely presented in quality foam.
With die cut foam products from Premier Protective Packaging, you can sleep well at night knowing your items are traveling safely.
Call Us Today!
Using die cut foam to keep your products safe can really pay off in the long run. Your products remain safe and your customers are happy with what they receive. As a Grand Rapids, MI, manufacturer of protective packaging materials, we are confident that we can find what works best for you.
Call Premier Protective Packaging at (616) 791-7400 or contact us online today to request a quote.