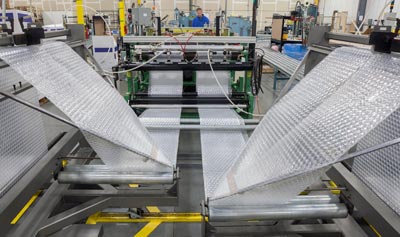 We understand that when you bubble products.
, you want to ensure they will arrive at their destination intact. This guide was written to help businesses just like yours keep their shipping items safe with quality
Below you'll find our 7 tips for
.
Bubble Wrap Shipping Tips
1.) Pick the Right Bubble Size
Protective bubble comes in a range of bubble sizes to accommodate the size item you're shipping. For example, if you are shipping large bulky products such as furniture, you may benefit most from a large bubble size.
Large bubble bags and sheets are perfect for protecting items from impact damage and large bubble can also be used to fill void space in boxes so that your items don't move around and break during shipping. Small sized bubbles are best suited for protecting fragile items (such as electronics and dishware) from being scratched.
2.) Pack with the Bubbles In or Out
There seems to be some debate on whether the bubbles on a bubble wrap should be facing in or out when wrapped around a product. To clear any confusion you might have, you should know that packing with the bubbles in provides greater protective cushioning for shipping items. This is because the bubbles help hold your items in place during shipping. Protective bubble bags are typically bubble out, as this makes it easier to slide products inside the bags making packing a quick process for your business.
3.) Protect Flat Breakables with Self-Seal Bubble Bags
Bubble bags with lip and tape are perfect for
such as CDs or picture frames. These clear protective bubble envelopes can be easily sealed for your convenience and keep items secure during shipping. We carry stock bubble lip and tape bags for small quantity needs as well as offering quotes for custom bags based on your product size.
4.) Protect Small Accessories with Custom Bubble Bags
While bubble lip and tape bags are perfect for flat items, regular bubble bags are best suited for small breakables of various shapes and sizes. Bubble bags sizes are custom so let us know if we can quote a size to fit your needs.
5.) Fill Void Areas
To prevent shipping damage, it's important to fill all void areas with protective bubble sheeting, or whatever is most appropriate for the product being shipped. If there are void areas in your shipping boxes, you run the risk of product damage before they even get to their destination.
To maintain customer satisfaction, make sure that all void areas are filled. That way, you won't have to worry about items moving around during shipping and being damaged.
6.) Don't Skimp on Packing Tape
If you use a single strip of packing tape across the cardboard box flaps, it won't be secure. For the best results, you should use three strips of tape. Make sure each strip of packing tape slightly overlaps the other.
We understand that business owners are concerned with cutting unnecessary expenses. However, using a sufficient amount of packing tape will prevent your boxes from bursting open when they're pushed from the sides during shipping.
7.) Consider Your Shipping Process
Are you a company that gets products ready for shipping via an assembly line? If so, you may be interested in ordering bubble bags on a roll. With this product, your employees are able to work more efficiently by easily tearing off bubble bags from a roll. Bubble bags on a roll are also great for people who sell their own crafts on the internet and need to .
These are just some of many examples of how you can streamline
. As a reputable bubble, foam and Spun bond converter, we offer a variety of products to fit your shipping needs.
If you are interested in ordering our protective bubble products, please feel free to give us a call at (616) 791-7400. The shipping experts at Premier Protective Packaging are dedicated to helping arrive safely at their destinations.