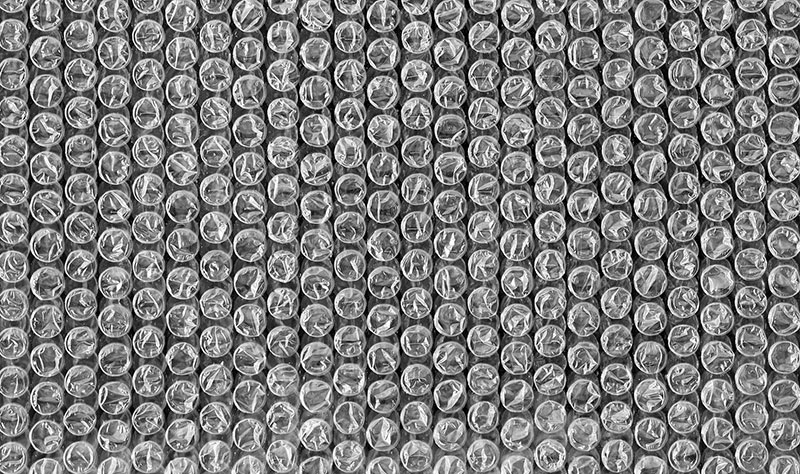 How effective is bubble wrap? The answer depends on how you're using this protective packaging. In 1957, bubble wrap failed to gain popularity as a textured wallpaper. Today, countless companies use to protect fragile items during shipping. Continue reading to learn why bubble wrap is so effective. As a packaging manufacturer, we're here to answer your questions!
In this blog post, we'll discuss how effective
is for:
Textured wallpaper
Egg drop containers
Protective packaging
Textured Wallpaper
If you want to cover your walls with bubble wrap, you're out of luck. Alfred W. Fielding and Marc Chavannes tried to sell the idea of textured wallpaper in 1957, but it never took off. Yet, some people use old bubble wrap to insulate their windows! Some people also claim that bubble wrap does wonders for insulating greenhouses. While we can't back up these claims, we do love seeing how creative people get when reusing bubble sheets.
Egg Drop Containers
You might remember this old science experiment from grade school. The teacher gives you an egg and tells you to wrap it in enough protective packaging so it can survive a fall. The key is to give the egg enough space to move in the container so the bubble wrap absorbs the impact. Sometimes people use bubble wrap as a protective outer layer for the egg.
Unless you're shipping groceries, you most likely don't have to worry about eggs. Yet, this experiment is still a good example of what can happen during shipping. It's not uncommon for delivery people to drop packages by accident.
helps absorb this impact so the items inside stay intact.
Most shipping damage happens in the last mile of the journey. This is when boxes are more likely to get jostled inside delivery trucks or dropped. We can help you choose from the best protective packaging for the products you wish to ship. For example, bubble wrap protects products so they arrive at their destinations unscathed.
Protective Packaging
Each bubble is full of air, which helps cushion the item you wish to ship. Together, all these bubbles form a protective layer that help absorb impact. We can't recommend bubble wrap enough if you need to ship items. Call us today to get your quote on bubble sheets and other packaging supplies.
Bubble wrap comes in different sizes depending on what you need to ship. For example, small bubble wrap is perfect for preventing scratches and scrapes. Yet, you'll still need large bubble wrap to absorb any impact from drops.
Why is Protective Packaging Important?
The last thing you want is for customers to open your boxes, only to discover shipping damage. Not only does this affect your reputation, but it also costs you money. Unhappy customers are more likely to return items and post negative online reviews. This is why it's important to invest in the right type and amount of protective packaging.

Premier Protective Packaging is a national bubble wrap manufacturer. We've helped customers protect items during shipping for over 15 years. To request a quote for bubble sheets, call (616) 791-7400.